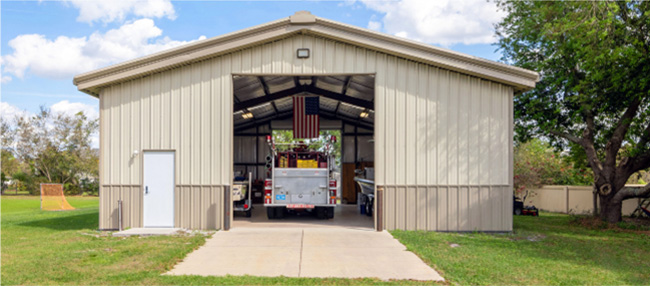 A perfect garage is an item that lingers in most of our wish lists. We all like comforts in our residence, the vehicles we buy, the activities we take part in, and everything else. Choosing a garage for our cars isn't any different.
Enough storage and available space, even when you have put all you need to put in, is vital. It costs more, but once you get it, there is no turning back. How difficult is it to obtain your dream garage? What would you sacrifice for the garage of your dreams? How far would you go?
When it comes to garages, various buyers start with single car garages and move up to 4+ car garages. Today, we will delve into the 2-car garages, which have become quite popular in our neighborhoods. Do you have a 2-car garage, or are you planning to get one? Either way, here are some tips to guide you on getting or expanding your new (or existing) garage.
The Ideal Garage
Garages are just like kitchens, different sizes to suit different needs. There is no ideal size for a garage; however, no one ever complained about having an oversized garage. They complain about the small ones. To know what size garage would be ideal for you, think about the kind of activities you would be performing in your garage.

Do you prefer doing repairs inside? Do you have bikes you would like to store inside? Is the garage sentimental to you? How much time will you be spending in the garage? Would you invite your friends over to your garage? What kind of cars will you store in the garage? Is it a small car, or is it medium-sized? Do not underestimate the power of a well thought out garage. If you only use your garage for parking, you might need a smaller garage than another, who may spend his/her weekends inside the garage.


What your garage is constructed of should also come to mind. Nobody wants to keep repairing their garage. Metal buildings have become quite common because of their durability, flexibility, and resistance to mold, termites, strong winds, & seismic forces. It is no wonder most garages and workshops are made of metal these days. Steel is the most robust building material there is. You want to purchase a garage that will serve you for the longest time with the least maintenance requirements. Steel buildings are the best option for garages, they stand firm in any weather, and steel buildings kits are the best quality of any metal building kit options.
The Minimum 2 Car Garage Dimensions
A two car garage is a garage that fits exactly two cars without leaving much space for much more. If all you do in the garage is park and go, this may be a perfect option for you. Remember that it also does not leave any extra space for storage.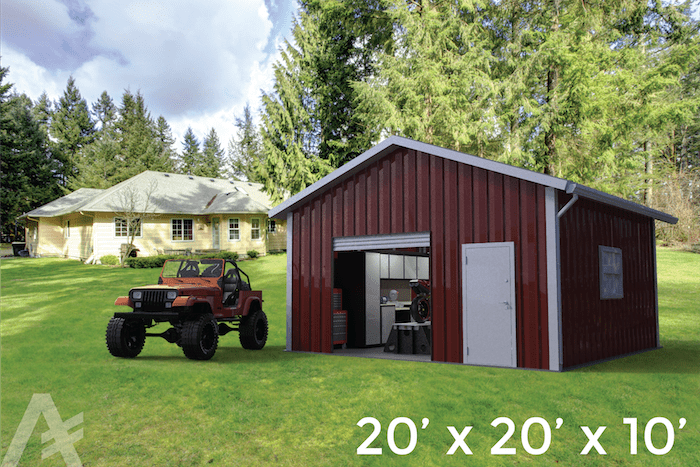 The recommended size for a 2-car garage is between 18'x20′, 20'x20′ and 22'x22′. These dimensions offer very little room for movement, storage, or much else. Two small-sized cars will fit, but you will have to provide space elsewhere for your work tools, a bench if you desired one, and other items.
If you prefer smaller doors for your garage, a two car garage may be a good fit for you, but who likes small garage doors? The bigger, the better in most cases. Why would you choose 8′ doors when you can get 9′ or even 10′ garage doors? Larger garage doors are also easier to operate when getting in and out of the garage. But remember, the right size for your needs will depend on the activities you plan to carry out within your garage.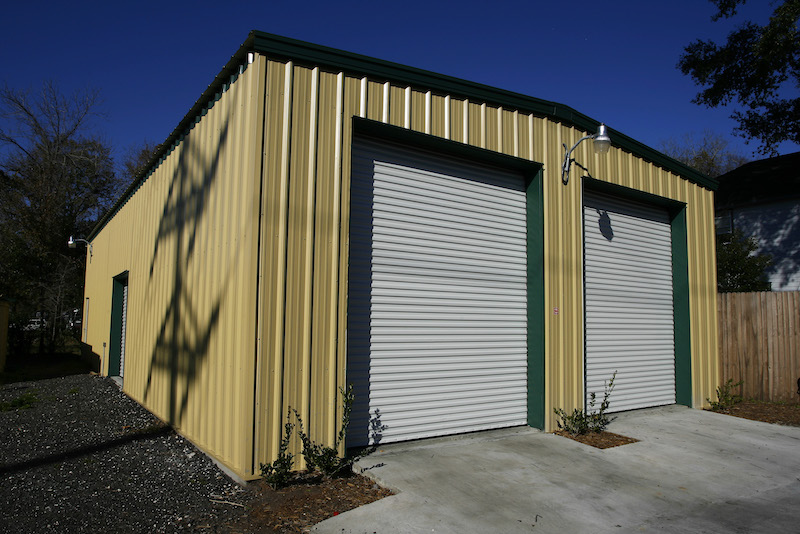 This small-sized garage may not offer enough space to let you open your doors as widely as you would want to. You will need to be extra careful when navigating inside.
But why would anyone subject themselves to this when you can get a longer and deeper garage? A 24×24 garage is only slightly longer and deeper, but its functionality is epic.
The Average-Sized Garage
An averagely sized garage is 22′ to 24′. If your car's width is 6′ to 6.5′, adding a few feet all around will give you 20′, which is the minimum size. Opting for a 22′ or 24′ width will elevate your space a great deal.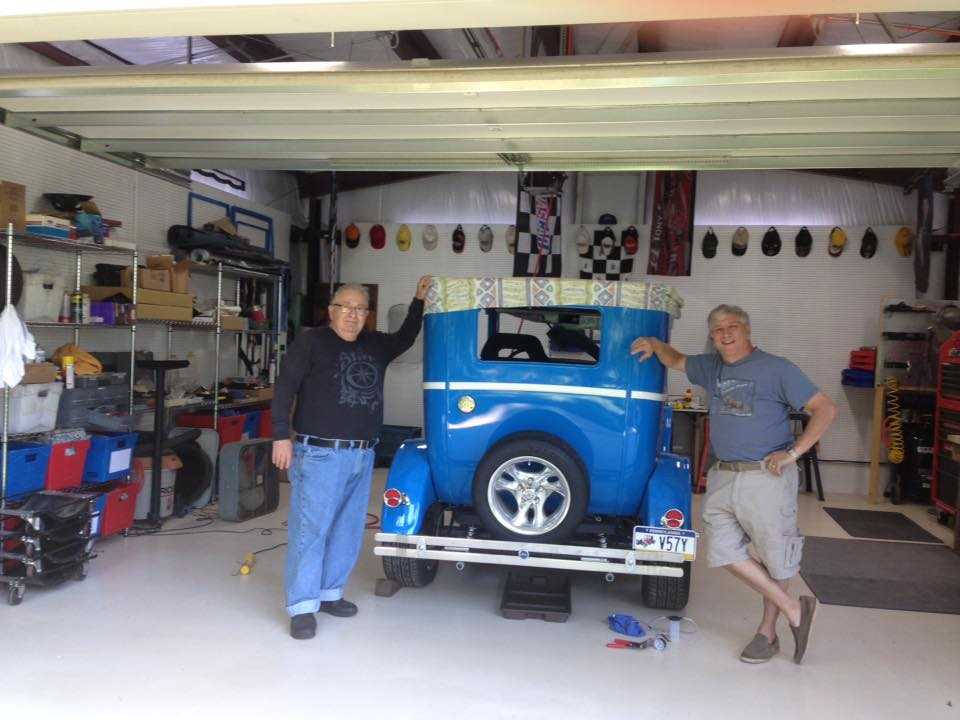 A typical car is approximately 17′ long, what you want to do with your garage is an essential factor when determining the depth for your ideal garage. Suppose you want to repair your vehicles inside the garage, you will require more depth. The average-sized garage is 24'x24′ or 24'x30′. The average-sized garage features ample space to fit a few storage shelves for your tools and maybe even a bench. If you spend most any of your free time in the garage, this would be a good option.
Two-Car Garages
Each day, two-car garages are increasing in popularity; this is because of their versatility and great functionality. The recommended two-car garage height is 8 ft. while the door is 7 ft. However, if you own a larger car, like a pick-up, you will need to get a garage with bigger dimensions.
Apart from parking vehicles, two-car garages are also great for storage. Here are some tips to maximize storage in your 2car garage.
Add shelves against the wall to increase storage space. This is also better than bringing in a whole shelf unit, which would take up more space.
Getting a garage with higher walls to increase its height. That also means more shelves.
An attic truss system comes with a stairway and floor space for lots of extra storage space.
Consider getting a two-story garage. These kinds of garages are the best when it comes to offering storage solutions and available space.
Since we all have different needs, our two-car garages come in several heights as below.
The standard workshop, whose height is about 12′. The attic two car garage whose height ranges from 13′ to 20′. This will depend on our clients' needs. The two-story garages go up to over 20′. This will, however, highly depend on the width of the same garage for balance.
Apart from the curbside appeal, the two-story garage will also add to your home, storage that will again come in handy. If getting away from your family for a moment is your thing, the upper floor is large enough to spare you a small room to relax on your own. Let's not forget about the nights you have extra guests but hardly any room for them to stay. Two-story garages prove that perfect garages exist. We only have to pay for them.
Garage Construction Costs
A typical single car garage with 12×22 dimension has a price range between $6,000 and $10,000. A two-car garage, typically sized around 24×24, can range in cost between $15,000 and $27,000, the average cost for a basic structure and foundation. This does not include the cost of the contractor for installation or building permits.
Keep in mind that your specific project cost will vary greatly according to your local labor costs, foundation requirements, selected finish materials, framing materials, size, accessories, attached vs detached, etc. so it's important to get several estimated for all the work you're contracting out and not doing yourself. Read this article to learn more about steel building pricing.
Getting more specific, lets talk about the costs of building a metal garage, and the options available to you.
Insulating Your Prefab Metal Garage
Buying The Garage
Now that you have seen and known how to choose a proper step, the next action should be buying the garage.
First, go through the kind of garage you desire online. Study it well and thoughtfully. Look at your options. Take your time to discover each and choose your desired 2 Car Garage Dimensions.
Request an estimate of the garage that you have settled on. If you need it to be customized, add it to the request to get the full estimate amount.
Get an approval of the garage from your township.
Request the garage plans. If your desired plan is not among the offered programs, you will be charged a small non-refundable fee to draft and print your selected plan.
Get a contractor to install the concrete pad.
Is that not easy? In five easy steps, you get you to have your dream garage installed where you want it. The best thing about these garages is that you can get the shape you want with the dimensions you need. There is no standard size. It only has to fit the qualities you as the owner needs it to.
To some of us, garages are more than just a storage for cars and tools, and all the old stuff no one uses anymore. So, we have to make the most out of that little space.
Summary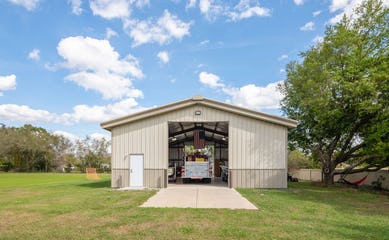 Service Type
STEEL BUILDING KITS, METAL BUILDING KITS
Provider Name
ALLIED STEEL BUILDINGS
,
Telephone No.1.877.997.8335
Area
Alabama, Alaska, Arizona, Arkansas, California, Colorado, Connecticut, Delaware, Florida, Georgia, Hawaii, Idaho, Illinois, Indiana, Iowa, Kansas, Kentucky, Louisiana, Maine, Maryland, Massachusetts, Michigan, Minnesota, Mississippi, Missouri, Montana, Nebraska, Nevada, New Hampshire, New Jersey, New Mexico, New York, North Carolina, North Dakota, Ohio, Oklahoma, Oregon, Pennsylvania, Rhode Island, South Carolina, South Dakota, Tennessee, Texas, Utah, Vermont, Virginia, Washington, West Virginia, Wisconsin, Wyoming, UNITED STATES, LATIN AMERICA, CARIBBEAN, AFRICA,
Description
steel building kits, metal building kits for steel building garages and workshops