The ultimate dream of any enthusiast horse owner is to construct their own indoor riding arena. For more professional traders with an entire suite of services, an indoor horse arena is a necessary component of their overall customer experience.
In this article we will discuss:

Indoor riding arenas require owners to invest time and money, but the results are well worth the efforts. The long-term benefits of indoor riding will eventually cover the cost of your initial investment. Indoor horse arenas offer a controlled and safe environment to train and ride throughout the year under different weather conditions.
It is important to offer a consistent environment to your riders, trainers, and horses. Indoor riding arenas can help you accomplish this by minimizing the distractions from outside and providing a controlled indoor environment. Before undertaking such a large project, it is important to do your research.
The Ideal Size of Your Indoor Riding Arena
According to experts, the minimum dimensions for an average horse arena should be no less than 60' in width and interior heights ranging from 16' to 18' measuring ground up to the peak of the trusses. The recommended horse arena sizes are as follows: 80' wide x 200' long and 60' wide by 120' long.
It's important to incorporate a clear span structure, which means that there are no beams or posts inside the riding area. Steel buildings are ideal for these types of designs.
If you plan to ride in large groups, it is advisable to do so with a longer area for the indoor arena. In terms of height, it is typical for indoor riding arenas to be 16 feet high. Add an extra 2 or 3 feet in the case of jumping horses. Anything beyond that will fall under the realm of commercial or professional riding arenas.
The doorways should be ideally 13 to 15 feet high to make room for a ride mounted over the horse. Make sure the doorway space is at least 16 feet wide.
Do keep in mind that while larger riding arenas look good on paper, they come with several hidden costs most arena owners fail to anticipate, and this includes more footing, real estate, and lighting.
Obtaining Building Permits
Before construction on the indoor arena can begin, you will need building permits through your local municipality and construction plans approved by an engineer. A lot of factors will be considered before granting you permit, and these include issues such as zoning and the environmental sensitivity of your land. You will need additional reports such as plans for water management in the case of a storm and soil testing before a permit is finally issued.
The approval process can range from one to three months. Some of the most common concerns include restrictions on certain requirements of the project scope, environmental issues, and zoning.
Some towns make it possible for landowners to skip the permit process altogether if the indoor riding arena is strictly for personal use, although we don't recommend this practice. It is necessary to possess engineer-approved plans to make sure the building is properly designed in accordance with the local building codes.
The health and safety of your horses and people should be prioritized at all times. Besides, it is not possible to obtain insurance for your building if wasn't backed up by engineer-approved drawings. Protect your investment by following proper guidelines and avoid accidents.
Arena Base and Footing Surface
It is recommended to cover the base with four inches of limestone screenings over sand, clay or aggregate mix. The footing can be sourced locally or bought from outside. As long as the footing provides sufficient traction, shock absorption, and stability, to help riders and horses, you can use locally sourced sand.
There are several types of sands, each of which bring something unique to the table. The ideal mixture is prepared with grains of varying sizes. The most popular mixture is medium course sands that are hard and washed. Sands that crumble quickly to create dust, or sands with round grains offer minimal traction, and will ultimately result in bad experiences for riders and horses alike.
Deciding the quality of sand can be tricky, make sure you discuss this at length with your contractor and engineer to get the best possible traction for horses.
Features to Include In Your Indoor Riding Arena
Check out the list below to make your indoor riding arena look as professional as possible without breaking the budget.
Cupola: A single or two will provide the indoor arena with an aesthetically attractive look while creating adequate ventilation options.
Doors: Make sure you install big sliding doors to provide enough room for mounted riders carrying large equipment. The trick is to make getting in out of the horse arena both convenient and easy.
Protection from snow and rain: Make sure to protect high traffic areas from water and snow and minimize the risk of growing deep swampy holes.
Rider Guard: These not only provide the interiors with a finished look but also add an element of safety to the riding arena. Rider guards establish space between the horse's hooves and the wall's vertical framing, this in turn creates more distance between the moving horse and the wall, as well as the rider's knees and stirrups.
Side Lights: Side lights are an economical means of bringing in more natural light inside the riding arena. They are easy to install and less expensive than sky lights. Plus, they can be designed to accommodate up to two times the size of a normal sky light and also bring twice the amount of natural light.
Vapor Barrier: Keeping the roof insulated will help with aesthetics, minimize noise, and minimize undesirable things such as condensation and prevent the hothouse effect.
Wainscoting: While not important, wainscoting can enhance the arena's aesthetics. Wainscoting is added half way up the indoor arena while the rest of the wall can be covered with a color paint of your choice.
How to Choose the Ideal Location:
The most important step before building an indoor riding arena is to first select an ideal location.
Choose a site that has the smoothest level throughout your property. This will minimize how much site prep and excavation you will need. In the case of a level area with trees, your savings can be significant.
By choosing a naturally level spot, you will eliminate the risk of water runoff from hills that surround the area. Here's the general rule of thumb: if water has been accumulating in the area before you construction of the indoor riding arena began, it will inevitably happen after the construction is completed.
This more than likely means the need to construct drainage channels surrounding the indoor arena. Another alternative is to elevate the area where you plan on constructing the indoor riding arena. As long as it accomplishes the goal of diverting water away from the area instead of having it cut right into the middle, causing damage to your hard work.
At the end of the day, the best way to remove moisture is by percolation underneath the indoor arena footing and into the ground. Every one inch of rain inside the arena requires a time span of at least 24 hours for all the water to filter through the ground and make riding safe again. Once again, it is important to carry out plenty of research and make sure you accommodate for undesirable elements such as moisture, dust and ventilation.
Let's Discuss 11 of the Most Important Things You Should Know Before Building Your Arena:
Learn local building laws related to your town. Every place will have its own rules, and what may be valid for one town will drastically differ in another. Some places require buildings to abide by strict agriculturally friendly codes. There are several items that towns can differ on, this includes the following:
i) How much land to devote per horse.
ii) Which services should be involved into the construction (such as board of health, zoning, conservation, building, etc).
iii) How far buildings should be set back from property boundaries, etc.
Before starting construction, you should be prepared to make sure your project is on the right side of the law. A good idea is to talk with someone who had an indoor horse arena built near you. Since they have already gone through the process, they can offer a firsthand experience of the difficulties they ran into, and provide answers to some of the more complex challenges that you might have to solve before undertaking the project.
Get in touch with a contractor and try to get a rough estimate of what the site work and plan will cost.
The location of your indoor riding arena is key here. This includes the exact area where it's going to be built on the property and other variables such as where the sun shines, the presence of low lying, humid areas, the direction in which the water runs off to, the direction in which the wind blows, the amount of dirt that needs to be moved. In many cases, your project will require the use of an excavator to make the task much easier.
It is important to leave enough room around the premises for parking, horse turn out, riding ground, and a trailer turn around. A good idea is to sketch every asset on a plot map, you can fetch one from the town for more accurate results. You can alternatively buy orange flags from your nearest hardware retailer and place them on the plot map to get a rough estimate of how much space each asset will take up.
A big part of your plan is to find a trustworthy contractor. Put your references to good use and find the right match.
Before hiring someone for the job, ask your list of potential contractors to do a small project for you such as an excavation job. While this may not be free, it will give you a good idea of their quality of service, how far off they are from their initial estimate, whether you get timely response, and how you two get along.
Choosing the Right Type of Structure for Indoor Riding Arena
When it comes to choosing the right type of structure, there is no one size fits all design choice for indoor riding arenas. The type of structure largely depends on your budget and preferences such as arena size, location, and load requirements for rain, wind and snow.
Fabric Covered
These arenas are supported by a steel frame covered by a translucent fabric roof. Polyethylene is the preferred choice by most contractors, but it must be replaced every 15 to 20 years. The two prominent design choices include both domed and peaked roof variants.
The maximum construction span for fabric covered indoor riding arenas can reach of widths up to 200', but this figure widely depends on the manufacturer. At the end of the day, the primary advantage of using fabric covered structures is higher amount of natural lighting and an open feeling. It can be challenging to insulate these arenas which are typically not heated.
Wood Post Frame
These buildings are supported by a wooden frame which typically affords more flexibility to architectures when it comes to the overall design choice. The construction for wood post frame buildings does not require the setup of a continuous wall foundation. One limitation with wooden framed riding arenas is that the maximum width cannot exceed 90 feet.
Steel Frame
Steel framed arenas offer incredible versatility to contractors. They offer the aesthetic appeal of cathedral-like buildings. The best part is that steel framed arenas are ideal for both winter and summer seasons because it is easy to adjust ambient temperatures around-the-clock for comfortable indoor riding.
Steel frame buildings allow you to go with bigger construction spans.
Cost to build an indoor riding arena
Read about the different costs associated with building an indoor riding arena here:
Summary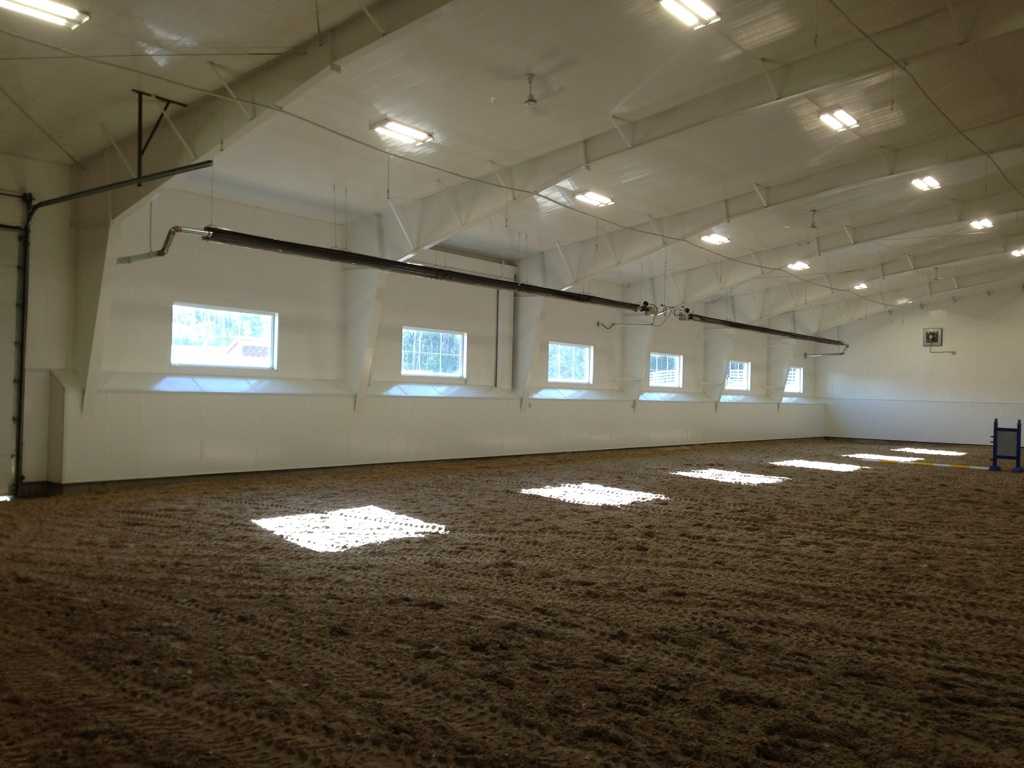 Article Name
Indoor Riding Arena | Understand the Size Options
Description
Indoor riding arenas, what Is a good size for an indoor riding arena? This will be determined by your arena activity.