Prefabricated Steel buildings versus concrete: which one should you build with?
Two of the most common building materials in America are concrete and steel. Sometimes, you have a choice of material for your project. Which should you choose? Which material is best for your specific purpose?
The following guide will describe:
The main differences between steel & concrete and their relative pros and cons:
Fabrication
Point one is that pre-fabricated steel buildings are built off-site and then delivered to site for easy assembling. Whereas concrete structures are most commonly formed on-site – concrete is poured into molds – know as forms – and left to dry. The forms are then removed revealing the concrete structure.
Using forms to mould concrete means that your concrete structure can take on almost any shape imaginable. Create the mold to the desired shape, pour in the concrete, leave it to dry for a couple of days and you have the structure you wanted.
Floorspace
The downside though is that concrete is very heavy and that weight makes it impossible for concrete structures to span any appreciable distance without the help of support columns. And the problem here is that bulky concrete supports take up floor space you might otherwise have used for your own purposes.
Concrete also doesn't hold large expanses of glass – so showrooms, for example, almost always prefer a steel structure.
This is where one of the benefits of steel structures really makes itself known.
Because prefabricated steel buildings can provide vast areas of space without the need for column structures to hold the roof up. A 300 foot span is possible without column supports – leaving you with a huge area of uninterrupted floor-space.
And your building's length is pretty much unlimited – just add additional frames and bays until you're at the length you need. This ability to provide large expanses of floor-space – plus, we might add, roof heights of up to 40 feet – means aircraft hangars, sports facilities, agricultural sheds, equestrian centers – and a whole range of other types of building – are regularly made from steel.
Availability
Both materials are readily available so they're even on that score.
The one time there can be a noticeable shortage of concrete is after a natural disaster. Steel quickly recycles back into the market so overall supply doesn't change.
Whereas concrete can't be reused after it has been damaged so fresh new supplies have to be created. There can be a temporary shortage of concrete – and an accompanying price spike.
Safety
Concrete is heavy and strong – it stands up to winds, resists fire well and is unaffected by pests. The development team at Ground Zero have made use of concrete's heaviness by encasing the lift shafts in 2 feet of concrete – enough, they believe, to offer stout resistance to explosions or terrorist activity.
But concrete's primary safety disadvantage is in areas of seismic activity – here, it can crumble and fall causing severe damage to both property and its unfortunate inhabitants.
Steel's resistance to wind, rain, pests, mold and the other challenges that nature throws at it is very well documented. It has decent fire resistance – but it's easy to add additional fire-resistant material to steel. And it handles seismic activity much more safely than almost any other material. Steel itself has the ability to absorb earthquake energy. And steel allows the use of particular construction methods that mean it can handle a certain amount of ground movement without adverse effects – like collapse.
Cost
As a material concrete is fairly cheap and is made of readily-available materials. Steel, on the other hand, enjoys a superior strength-to-weight ratio and gives you more performance for the same amount of concrete. Steel works out to be more cost effective than concrete overall.
The cost of constructing buildings themselves varies according to the materials used. In most construction projects, time is most certainly money so the materials that are quicker to create buildings with will offer an attractive advantage over slower options.
You can prefabricate your steel building while work is taking place to prepare the ground that will hold it. So demolition, leveling, laying a concrete foundation can all be underway while your steel fabricator is working on the building. As soon as the ground is ready the steel can be delivered and assembled. This represents valuable time savings.
If your building is made of concrete you can only build it once the ground is prepared. So the start-to-end time is longer than that of steel. Everything has to wait for the groundwork to complete – and then once you come to construct your building you have the concrete setting and drying times to factor into your plans.
Speaking of the ground, concrete's increased weight means it will require thicker foundations to keep it steady. Which can mean having to reinforce whatever foundations already exist or, if building from scratch, having to build heavier foundations than you would with a steel building.
Steel construction also requires fewer workers on site: assembling a pre engineered building is straightforward so highly skilled labor isn't required. Remember that for smaller steel structures the home or business owner sometimes assembles them him or herself. They couldn't do that with a concrete building!
Maintenance
Concrete is heavy and this helps it hold temperatures and reduce drafts. Which in turn makes it cheaper to keep warm or cool. The concrete itself however requires ongoing maintenance against mold and weather.
Steel buildings don't have strong insulating properties. So if maintaining an internal temperature in your prefabricated steel building is important then you will need an insulation material fitted such as batted insulation, or use thermal insulated metal panel. This is easily done and the material will reduce temperature swings and lock in the warmth or coolness that your air-conditioning unit is generating.
Environment
About half of all concrete is recycled – although the recycled material can no longer be used for construction. Instead, it's used for hardcore in substructure works or road construction.
Whereas almost all – nearly 100% – of structural steel is recycled and reused. Better still, the material loses none of its strength properties after recycling.
It's also worth noting that cement manufacturing contributes a significant amount towards global greenhouse gas emissions.
Flexibility/Versatility
You can lengthen your steel building with ease if future growth means you need more space. The addition of more frames and bays extends the building to the length you require.
If you ever find you don't need your building any more the steel within it can be sold to a dealer for cash. Whereas you would have to pay somebody to demolish and remove your concrete building.
Conclusion
Concrete is an age-old, trusted material used throughout the world in millions of constructions. Its weight gives it strength and you can build almost any shape imaginable with it. But steel shows itself as providing significant advantages in just about every measurable way: strength, flexibility, cost, durability, practicality – you name it, steel wins out.
Steel Buildings vs Wood Buildings
Some organizations, consumers, and businesses are attracted to the low costs involved with steel buildings but, still are not quite sure whether it is a feasible option when compared to more conventional construction.
The main differences between steel & wood and their relative pros and cons:
Price
Lumber prices have been extremely strong over the last eight years, turning up in price in early 2009 and making new highs recently. A recent report by Random Lengths has concluded that wood building materials have gone up 45 percent over the past year, a significant increase in so little time. Meanwhile, steel prices have fallen in the past year, making this durable building material even more affordable.
Steel framing can lower construction costs. Warranty call-backs are minimal because steel does not shrink, split, or warp. As a result, there are no nail pops or drywall cracks to fix after the structure is completed.
Design Flexibility
In terms of design a steel building offers more flexibility than a wood structure due to its ability to span large areas. That can create savings in the building and foundation that can pass to the customers. The extensive lineup of expertly produced pre-engineered steel structures includes warehouses, garages, workshops, mining buildings, truck shops, manufacturing facilities, riding arenas, airplane hangars, recycling facilities, farm buildings, boat yards, logistic hubs, and oilfield buildings, kits and much more.
Energy Efficiency
Metal construction methods have long been the most economical. They are of better quality and durability, produce less waste, and have reduced labor costs compared to wood construction. Consistent quality means that scrap is dramatically reduced, 2% for steel versus 20% for wood. These savings also translate into lower costs for job site culling of wood materials and haul off and disposal of discarded material.
Sustainability
Steel usually contains a minimum of 25% recycled steel and it is 100% recyclable. Once the steel is produced, it becomes a permanent resource because it is 100% recyclable without loss of quality and has a potentially eternal life cycle. Its combination of strength, availability, recyclability, versatility and affordability makes steel unique.
Maintenance free
Long-term maintenance costs are reduced because steel is resistant to mold, rot, termite and insect plagues. Good indoor air quality is assured because steel does not emit volatile organic compounds.
In general, in spite of all the fuss of steel versus wood, it is a demonstrated fact that steel is stronger against earthquakes, high winds, rainstorms, hurricanes, heavy snowfall, etc. It is also noncombustible, environmentally safe, does not warp or rot, and can not be damaged by termites.
The use of steel will enhance the quality of the air in the interior. Many environmental organizations recommend the use of steel framing for chemically sensitive homeowners who want the best air quality. There is no need to treat steel for insects and is free of chemicals and resin adhesives that are prevalent in other construction materials. The viability of a steel building for almost any application is unquestioned.
If you want to learn exactly how Allied Steel can advise and work with you on your next building project, then please get in touch. Deciding on a building design is significantly easier than you might think – and our specialists will walk you through every step.
Or you can call us right now 1.877.997.8335 and we'll be pleased to assist.
Summary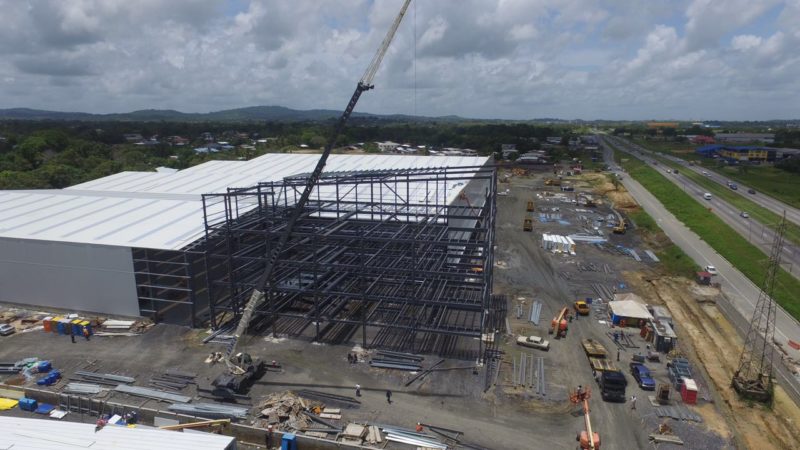 Article Name
Prefabricated Buildings | Steel versus Wood & Concrete
Description
Prefabricated steel buildings. Three of the most common building materials in America are wood, concrete and steel. Sometimes, you have a choice of material for your project. Which should you choose? Which material is best for your specific purpose?
Author
Publisher Name
Publisher Logo