In 2014, Allied Steel Building was approached by Elvis Margarita, an innovative businessman in the Caribbean island of Bonaire, with a special request – redesign three small store fronts into a sustainable unified facility for his laundry service company.
Allied provided support in the design, engineering, fabrication, and handling of logistics for the delivery and construction of this 75'x80'x21 two-story structure that serves as both commercial and office space. The new Alpha & Omega Laundry building located near the downtown area of Kralendijk, Bonaire's capital, boasts 8,500 square feet of floor space, and it's 24 feet high.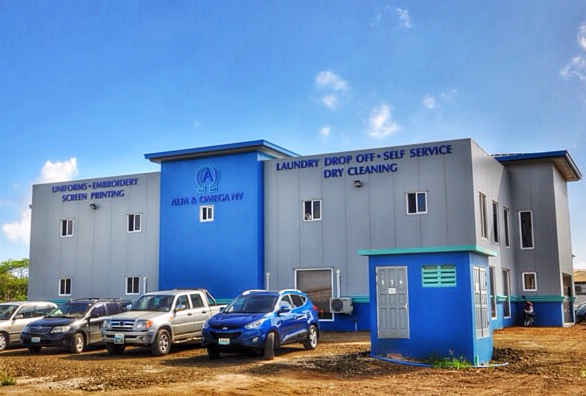 The Alpha & Omega Laundry facility also provided a unique opportunity for Allied to use one of its many additional green features. To further increase the sustainability of the building, which was already manufactured with 90% recycled steel, Mr. Margarita requested the incorporation of thermal insulated panels,  a relatively new technology in steel construction and a first in Bonaire's building history. Thermal insulated panels have been proven to be an effective energy conservation solution as they lower temperature of the inside of the building relative to the temperature outside of the structure. The panels were installed on the walls and roof of the building primarily to save money on energy consumption, but also to help provide a healthy, safe, and comfortable working environment in a region that has a fairly hot climate.
The short 7 month project was completed by January 2015, and was managed by Mike Stock, International Senior Project Manager at Allied.