Not familiar with the word 'barndominium'? Well, that's okay. Not many people were—until recently. As prefabricated metal and steel buildings continue to gain popularity as a cost-effective, supremely versatile and energy-saving alternative to conventional construction, metal barndominiums have emerged as the latest real estate trend that has been gripping the nation. Please note Allied Steel Buildings does not supply barndominiums or metal home kits.
What is a Barndominium?
A play on the words 'barn' and 'condominium', barndominiums are exactly what they sound like: a metal-built barn that has been transformed into a modern living space. Although the term 'barndominium' has been around for decades, it has drastically changed from what it stood for in the early years. Initially, barnodominium was a name given to barns that had been modified to include living quarters. Today, however, they can range from being very basic to having modern features such as:
Plumbing
Engineered concrete slabs
High-quality concrete flooring
Energy-efficient windows
Foam insulation
9-feet tall ceilings
The building concept applied in barndominiums is similar to the one that is used in warehouses. However, barndominiums are much more than a simple warehouse. They are affordable, elegant homes with beautiful exteriors that can be decorated with intricate masonry. In numerous ways, a barndominium is the perfect combination of different architectural trends and interior designs. It offers the design customizability and cost benefits of a small house, but also the kind of space you can generally only get with a traditionally-sized house. Therefore, barndominiums have succeeded in establishing their very own niche in the real estate market. They have made modern custom-built homes, with plenty of space for recreation, more affordable than ever before.
Why Opt for a Barndominium?
You probably already have a pretty good outlook on the various benefits of barndominiums, but let's take a detailed look at the reasons why you should consider a metal building kit for your next home.
You Can Build a Home that Fits any Property
Whether you want to go for large or small, opting for a barndominium means you are free to choose. You can have a sprawling estate if you have a big family or you can go for something small and cozy. Flexibility and customizability are two aspects in which the larger barndominium can match, if not surpass, tiny houses. Although tiny houses work for some people, they can't match barndominiums when it comes to space and privacy.
Adaptable to Multiple Purposes
One advantage smaller structures had over larger ones was customizability. The reason most Millennials prefer smaller houses is because they can be easily customized to fit their occupants' personality and needs.
However, barn-style homes have proved that larger structures can be versatile as well. With a barndominium, you can personalize the layout of the structure according to your needs. For instance, you can reserve part of the structure to serve as living quarters, while another one can be converted into a space for work or recreation. Some people even use a portion of their barndominium as a traditional barn to add a more authentic rural charm.
Furthermore, it's also easier and more affordable to add modifications to a barndominium. Are you an outdoorsy person? Go ahead and get a deck installed around the house! With barn-style homes, the possibilities are endless in terms of what you can do with them.
More Cost-Effective, Especially if you Opt for a Kit
Generally, the costs to build a barn-style home from scratch are much lower compared to building a traditional home. Their cost-effectiveness is another big reason why barndominiums have become so popular. However, with that being said, costs can vary depending on the square footage, the features you choose, the materials you choose and the builder you opt to work with and a lot more.
But, if you talk about just the structure itself without including finishing and incorporated features, it'll cost you around $20 per square foot. If you include slab commissioning and finishing into the equation, expect to pay around $80 to $90 per square foot.
Buying an existing barndominium is always an option as well. All it'll require would be finishing. You can find some great deals if you decide to go down this route.
Perhaps the most cost-effective way to construct a barndominium is to buy a prefabricated steel building kit. It'll enable you to build your barndominium on your home with the help of a contractor. Some companies even deliver prefabricated components right to the delivery site. A prefabricated metal building kit can save you up to 50% of the total costs. Please note Allied Steel Buildings does not provide metal homes.
We'll discuss the building costs in detail later in the article.

A More Durable, Longer-Lasting Home that Requires Minimal Maintenance
Traditionally, houses in the United States have been built out of wood, but when you think about it, isn't metal a more sensible material choice? Here are the benefits barndominiums have over traditional houses in terms of durability:
Metal Offers Greater Protection from the Elements: As it's sturdier than wood, metal provides better protection in severe storms and can even stand up to earthquakes.
A Metal Structure Doesn't Combust: Although fire and extremely high temperatures can cause metal to deform, it's not going to catch fire like a wooden structure does.
Metal has a Phenomenal Strength to Weight Ratio: In addition to being tough and sturdy, metal is also light. This can result in reduced material transportation costs as well as a less labor-intensive assembly.
Metal Isn't Likely to Attract Pests: Unlike wood, a metal structure is less likely to be damaged by pests such as termites. With metal, you don't have to worry about bugs chewing on the frame of your barndominium.
A Metal Structure Won't Rot: If you have ever lived in a home that was mostly made out of wood, you know how moisture and mold can wreak havoc on wooden structures. Preventing moisture and mould-induced damage can be a never-ending battle. On the other hand, a metal structure isn't susceptible to decay like a wooden one. It's much easier to maintain a metal structure, and it is more likely to have a longer lifespan.
Reduced Insurance Costs: If your barndominium is built out of steel or other metals, you're more likely to receive better rates from your insurance provider.
*Read more on metal barn vs wood barn construction.
Experience the Incredible Airy Spaciousness
Another great feature of barndominiums is their unrivalled spaciousness of design. High ceilings, an uninterrupted flow of air and light and a feeling of spaciousness are typical characteristics associated with barn-style homes. This gives you the freedom to arrange your home décor the way you like, and you never have to deal with the feelings of being stifled or cramped.
Explore Rustic Design Trends by Living in Your Dream Country House
Rural-inspired interior and exterior designs are one of the hottest home design trends in America right now. Whether you build it in the country side or you find a way past exurban and suburban zoning restrictions, once you step inside your building, you'll find yourself lost in its rustic ambiance. Imagine it as your little slice of countryside, wherever you decide to build it.
In fact, if you are a collector of hand-made décor items such as wicker furniture and antique dishware, you'll discover that they suit your metal workshop perfectly.
Barndominiums Can Fulfill Multiple Purposes
While we've mostly talked about barndominiums as homes, they can be built to fulfill other purposes as well. With their exceptional versatility, customizability and openness of design, barndominiums are well-suited to be used as community centers, corporate meeting spaces, bars, shops, restaurants and even religious buildings such as a church.
What is the Average Cost to Build a Barndominium?
As we've already mentioned, the cost-per-square-foot of a barndominium really depends upon the location, the materials you use, the features you choose and the builder you work with, amongst others. They can start as low as $40 per square foot and go up to $125 per square foot or even higher. If you choose to equip your barndominium with options like granite counter-tops and custom-made cabinets, the costs will obviously be higher.
Let's delve into the details of how much it costs on average to build a barndominium.
Increasing Popularity Has Brought More Options
As recently as a decade ago, the choices in barndominium plans and prices were extremely limited. As a matter of fact, barndominiums were hardly considered to be more than simple pole barns with integrated living quarters.
However, today it's a different story. There are hundreds of designs available to choose from, ranging from tiny one-bedroom 700 square feet ones to huge luxury creations with more than 5 bedrooms and a full shop. With such an extensive range of options, it's understandable that the pricing can be a bit elusive. The most common answer you'll hear upon inquiring about the price of a particular barndominium design will be "it depends".
Well, it really does. Even if you purchase a prefabricated kit, and pay for it to be delivered to the building site, you'll still need the total cost of the options you choose, and the finish, before you are able to determine the final cost per square foot. So ultimately, the costs are really determined by the owner.
That's Understandable, but what is a 'Ballpark' Figure?
To provide you with an estimate, the minimum cost for a very basic barndominium kit that's delivered to your property and left for you to complete would be $20 per square foot. Bear in mind, this is the most basic kit, consisting of just walls and a roof.
That might sound wonderfully affordable but remember; this is just the cost of the kit. It doesn't include the costs of windows, doors, plumbing and hanging the drywall. If you're able to perform all these jobs yourself, you'll definitely save a lot of money regardless of which DIY steel building kit you choose.
So what would be a More Realistic Barndominium Cost?
For those who are going to hire professional subcontractors to apply the finishing, the final cost per square feet for that same basic barndominium is going to increase to around $40. The style and specifications of the DIY barndominium kit also have a big impact on the total hard cost of the project.
A Simple Formula for Calculating the Total Cost
For those who are seeking a precise way to calculate the total costs of a barndominium project, we've devised a simple formula. Labeling the variables, we'll assume the delivered price of the barndominium kit to be "X", the price of finishing materials such as drywall, paint, cabinets and insulation to be "Y" and the labor costs will become "Z".
Let's take a look at a DIY example:
X = Steel Building Kit price
Y = Material Cost
Z = Labor Cost
The formula is: X+Y+Z=Total cost
*Read more about the factors that affect your steel building cost here.
Checking the Zoning Regulations
Prior to beginning construction of your barndominium, it's important to ensure that you're compliant with your area's zoning regulations. Local governing agencies set up zoning ordinances in order to protect everyone's interest. For instance, it's the area's zoning regulations that prevent noisy manufacturing plants from sprouting up in the middle of a quiet suburb. Some areas also have "uniformity of appearance" regulations in place to maintain the aesthetic beauty of the area.
For example, areas that are zoned as commercial areas will have different building requirements compared to areas that are zoned as 'residential'. These requirements will pertain to the appearance of the building, the height of the building and the area of the building.
Before building your barndominium, its best to consult with a local building official and determine if your project is compliant with the area's zoning regulations. Learn all you can about the area's building codes to avoid breaching any laws.
If you find that you're barndominium isn't in accordance with the zoning ordinance, there are still a couple of things you can do. Either you can modify the specifications of your project to make it compliant or you can request for a waiver from the zoning board. If you plan on doing the latter, the first thing to do is seek the approval of your neighbors. This will significantly boost your chances of gaining an approval.
Building a Barndominium
So what does building a barndominium involve? Contrary to what you might have seen in reality TV shows, building a barndominium isn't just about hanging fancy light fixtures. A lot of hard labor goes into it, and you'll be flabbergasted by how difficult it is to build a barndominium to the residential living standards. We have broken down the building process into 6 important steps. Here they are:
Laying the Foundation
Laying the foundations is the first and most important step of building a steel building. As the long-term structural integrity and stability depends upon the foundation, it's crucial for the slabs to be laid down properly.
Purlins, Girts & the Main Frames
After the foundations, the next step is the placement of rafters and the main frame. This involves pre-cutting, punching and welding these components. As these are the heaviest items in the assembly, it will probably require a crane to move and place them, especially if you're working with a large barndominium kit. After they have been properly placed, the rafters and the frame will be fastened to the foundation with bolts. Then comes the installation of secondary components such as girts and purlins.
Installation of Framed Openings
During the installation of girts, the accessory framed openings and the factory located framed openings, to which the girts are attached to, are also installed.
Installing the Roof & Wall Sheeting
We're now at the halfway stage of the building process. The next step involves the installation of roof and wall sheeting. First, the sheets are fastened to the frame with screws. The same process is then applied to the roof sheeting. Steps are taken to ensure that the screws are fitted snugly. All barndominium metal kits from certified suppliers come with weather stripping which is applied in between the panels.
Adding Insulation
You'd be hard-pressed to find a barndominium that didn't have insulation. Insulation is installed right after the weather stripping has been applied. This involves the careful placement of the insulation material in the framing which is located between the exterior and interior walls. When it comes to different types of insulations, spray-in insulation is a popular choice among barndominium builders. Spray-in insulation is tough, durable and cost-effective.
*Read more about Insulating your metal building here.
Interior Finish Work
The final step of the barndominium process consists of applying the finishing touches to the interior. This includes the installation of countertops, cabinets, ceilings, floorings, backsplash and any other features you have decided to add to your barndominium. This is where your preferences, creativity and budget limitations take over.
The upshot is that erecting a barndominium kit is no mean feat. It requires nearly as much work and expertise as constructing a house from scratch. As such, it's best to enlist the help of a recognized expert of pre-engineered and prefabricated metal building systems.
Summary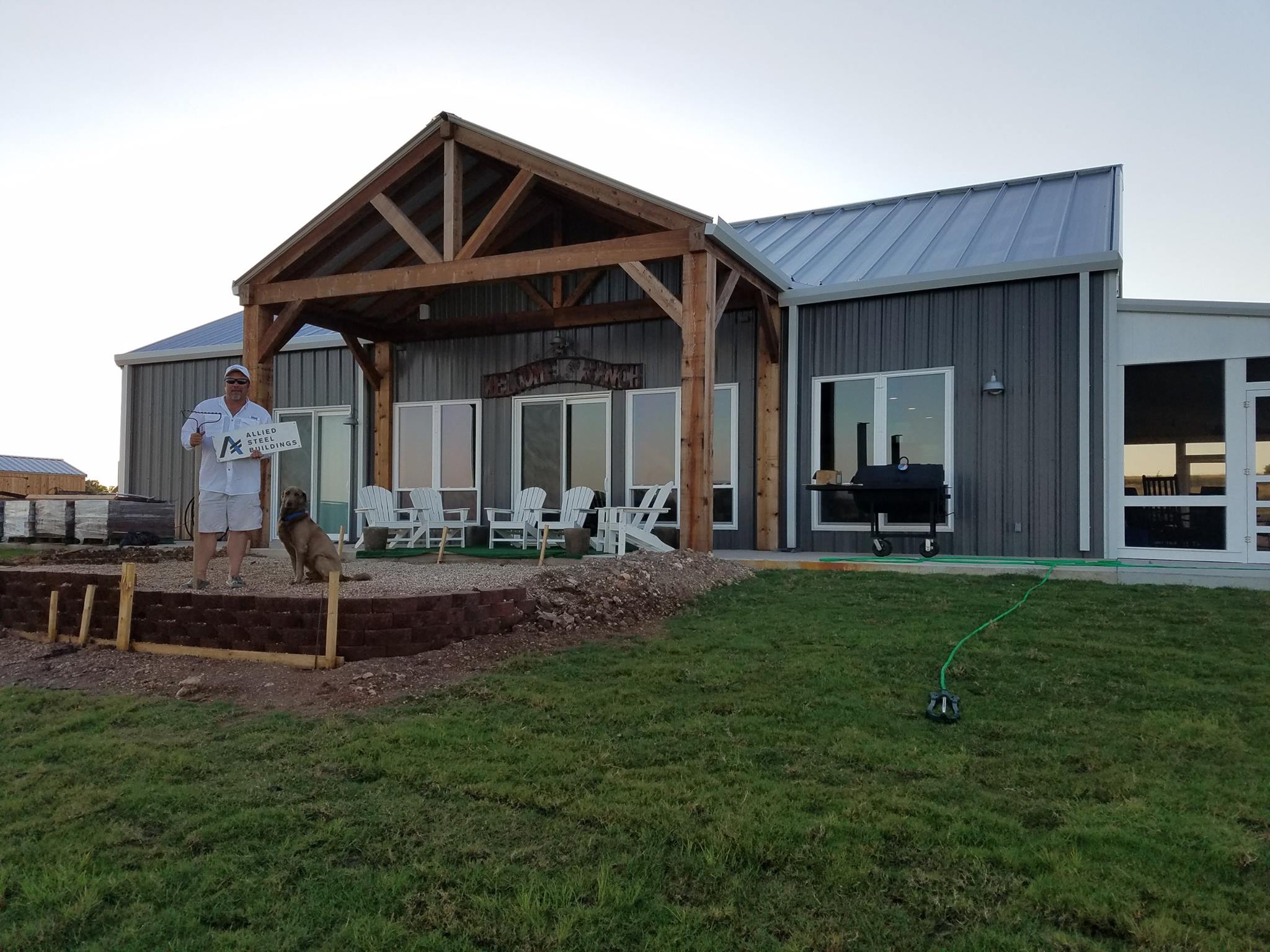 Article Name
Steel Building Barndominium: All You Need to Know
Description
barndominium: Considering a metal building for your residential project? Lets walk through the things you should consider.
Author
Publisher Name
Publisher Logo