Florida Horse Park Covered Riding Arena
Florida Steel Buildings
CHALLENGE: Build the largest horse park arena in Florida.
ALLIED SOLUTION: Despite initial permit delays, Allied designed, engineered, fabricated and delivered on time one of the largest horse park arenas in the Southeastern United States. With 375 feet of unobstructed open space, this beautiful building accommodates some of the largest horse and agricultural shows in the region. It features a Dutch hip roof and cupola, and engineers specifically kept the building weight to a minimum in support of the arena's expansive clear-span design. Allied currently has a total of 13 buildings on the property, including stables and facilities. These structures are part of a planned master development to expand the Florida Horse Park.
The 212'x396'x20' arena, was engineered and fabricated by Allied Steel Buildings for the Florida Department of Agriculture and Consumer Services. The sheer size of the arena at 83,000 square-feet, combined with a complete column-free interior provides an extremely versatile area for shows, practice, and competitions.
Allied Steel Buildings was instrumental in the design, engineering and fabrication of the covered riding arena. Allied Steel Buildings' Vice President Benjamin Meister, said: "We are grateful to be part of this project and are overwhelmed with the response to the quality and size of the completed area. Thanks to the investments of the state, the hard work of Shawn Doherty and FHP staff, the 'Horse Capital of the World' will maintain its status, year-around."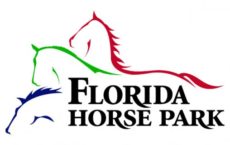 PROJECT HIGHLIGHTS
Location: Ocala, FL, United States
Dimensions: 212′ x 396′ x 20′
Square Footage: 83952
Color: Light Stone, Grey, White
Industry: Equestrian